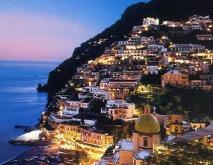 Positano
Picturesque houses along the slopes of the mountains, a single lane that runs through the village and then .. so many stairs.
In front you can admire the Galli islands, home of the sirens, purchased by Russian dancer Nureyev, now property of some rich hoteliers of Sorrento.
Don't miss to visit the church of Santa Maria Assunta, topped by large mosaic tiled dome, which houses some altars in polychrome marble. On the altar is an ancient Byzantine icon, the Black Madonna with the child in the womb, that the Saracens tried to steal without success: a sudden storm in fact stopped the ship, and the Lady herself ordered him to infidels "Pose, pose", of "put it down", on the beach. In that place fishermen built the church, and around the country.
Vuoi saperne di più?
Per prenotare la tua escursione a Positano o ricevere maggiori informazioni compila il modulo.
Syrenbus ti risponderà al più presto.