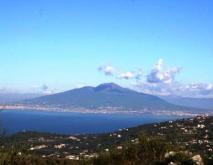 Sorrento
Phoenicians, Greeks, Romans, Saracens, Spanish, French, as the sailors, visitors, explorers and conquerors, all landed in Sorrento attracted by the mild climate and the beautiful landscape.
Sorrento now has almost 20 thousand inhabitants, and despite the mass tourism and progress, has managed to preserve its old town with a maze of streets, buildings and churches. One of the most prestigious is the Sedil Dominova, with its magnificent dome covered with tiles, and the interior frescoes, the haunt of aristocrats Sorrentini who gathered here to discuss politics and the city government.
The heart of the modern town is Piazza Tasso,with the statues of two famous Sorrento citizens: the beloved patron St. Anthony, and the poet Torquato Tasso, who was born in Sorrento in 1544.
Among the many writers, painters and artists who have chosen Sorrento as a place of residence and source of inspiration, a leading role goes to the famous Neapolitan tenor Enrico Caruso, who in 1921 stayed at the Grand Hotel Excelsior Vittoria.
Useful link:
http://www.sorrentotourism.com
Vuoi saperne di più?
Per prenotare la tua escursione a Sorrento o ricevere maggiori informazioni compila il modulo.
Syrenbus ti risponderà al più presto.